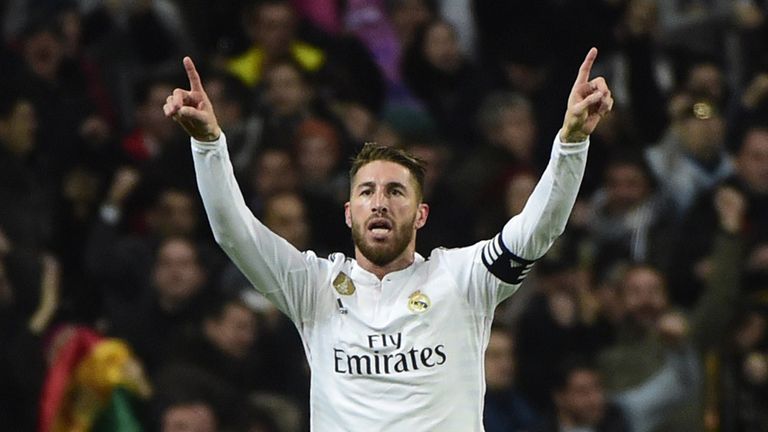 Manchester United have made a bid of £28.6m for Real Madrid defender Sergio Ramos, according to Sky sources.
Sky sources also understand that Ramos has told Madrid he wants to leave the club and join Louis van Gaal's side.
Widespread reports in the British and Spanish media have linked the defender, who has two years left on his contract at the Bernabeu, with a move to Old Trafford in recent weeks.
And Sky Sports Spanish football expert Graham Hunter expects the deal to go through because the player has made it so clear to Madrid that he wants a move away.
"Ramos has told Madrid directly that he is absolutely and completely committed to leaving the club this summer, that he specifically wants them to begin negotiations with Manchester United and that he doesn't want them to negotiate with anybody except Manchester United," Hunter told Sky Sports News HQ.
"People have been questioning Sergio Ramos' intentions, whether Manchester United [are] being used as was the case a couple of summers ago when Cesc Fabregas looked like he might be available to David Moyes.
"But it is a very firm display of intention from Manchester United. In Ramos they want someone who will form part of a firm spine of the team, who knows how to win, who has experience of winning, adding character and talent to what we saw was a regeneration under Louis van Gaal last season.
"Ramos is the focal point of that development and that's why they have made the bid. Real Madrid can be under no illusions that Ramos wants to go to Manchester United and he expects them to comply.
"He feels slighted by the renegotiation of other players' contracts around him when he's coming to that age when this new contract will be the high point of what remains of his career.
"He will also be unhappy with the way the club did not dismiss the story that he had been offered to Barcelona. There is a lack of communication between the single most important man at Madrid in president Florentino Perez and Ramos - a captain, fan fourvouite and leader.
"Ramos is a bold and brave footballer and that is echoed in his character. He believes the bid matches his current value.
"He looks at the project to rebuild Manchester United, to make it great again, and he wants to be part of it."